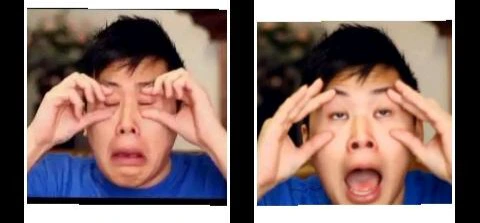 This things are almost impossible for Humans to do
1. Raise One Eyebrow
I can raise both of my eyebrows in bewilderment on how some people can raise just one. In fact, I know only one person in my life who can do this: my mother-in-law, who said that her ability just came to her during the pain of childbirth – and that this superpower was very useful in raising kids. Well, her and of course Leonard Nimoy (Mr. Spock: "Fascinating, Captain"), Sean Connery, Dwayne "The Rock" Johnson, and Stephen Colbert.
Some people call this the eyebrow cock, and it is known as the universal sign of O RLY … I mean, skepticism. The ability to raising eyebrows may be an evolutionary trait: baboons, mandrills and cebus monkeys raise their eyebrows as a threat gesture. (Source: David Givens / Center for Nonverbal Studies).
For all of you who want to do this (and yes, geeks who want to imitate Mr. Spock: I'm talkin' to you), it turns out that you can learn to raise one eyebrow. Here's the trick, according to wikiHow:
1. Start by keeping one eyebrow down with one hand and holding one up with the other. Keep practicing this in the mirror so you can detect the correct muscle movement to obtain one eyebrow up.
2. Once you are familiar with this and can do it quite well, try it with out using your hands.
3. Practice this in the mirror intil you get it just right
4. Scare and thrill people with your new talent!
9. Lick Your Elbow
Photo: Gussy (Luke) [Flickr]
I once read a trivia that said it's impossible to lick your own elbow. And that 75% of the people told this immediately tried to lick their elbows.
Well! It's obviously not so impossible for some people. Supposedly, Guinness World Records get about 5 claims a day from people who think that they are special just because they can lick their elbows (Source).
8. Gleeking
Okay, it is kind of gross but it's fascinating. Gleeking (or gleeting / glicking) is like spitting – but not quite: the term means projecting saliva from the submandibular gland upon compression by the tongue.
Interestingly, the word gleek appears in Shakespeare's A Midsummer Night's Dream, where a character named Bottom says "Nay, I can gleek upon occasion." (The Bard meant it as "joke," though, not spit like a camel)
7. Twitch Your Nose
Y'know, twitch your nose like the witch Samantha Stephens of Bewitched.
Elizabeth Montgomery, the actress that played Samantha, actually got sick and tired of being asked to twitch her nose by her fans that she refused to do it after the series was over.
They should bring back Bewitched. I missed that show.
6. Wiggle Your Ear
Your cat can do it. And so can the hippo and Jeff Goldblum. But only few other people in the world can wiggle their ears. It turned out that in 2006, scientists determined exactly why most people couldn't wiggle their own ears:
"The mechanism behind ear movements is sophisticated," says Bastiaan ter Meulen, who led the ear wiggling study, accepted for publication in the journal Clinical Neurophysiology.
Unlike other facial muscles, ear muscles have their own accessory nucleus, a control area for muscle function, in the brainstem, says ter Meulen, a researcher at Erasmus MC, a university medical centre in Rotterdam, the Netherlands.
"Compared to animals, especially bats and cats, this nucleus is rather small in humans," he says. ( Source )
But fear not, non-ear wiggling people! You can train yourself to do it. WikiHow explains:
Isolate your ear-wiggling muscles. You may be able to wiggle your ears, but it won't be that impressive if you have to raise your eyebrows or look awfully surprised every time. You may not be able to move your ears without moving your scalp, but you should be able to learn to move them without moving your eyebrows. Practice wiggling your ears without moving any other parts of your face.
5. Touch Your Nose or Chin With Your Tongue
I betcha Gene Simmons of the rock band KISS could do both easily, but most people can't touch the tip of their nose or their chin with their tongue. Rumor was Gene had a cow's tongue grafted onto his own. But Snopes, ever the party pooper, set the record straight:
But, as Simmons wrote in his autobiography, his unusual tongue was indeed the work of Mother Nature alone, a feature whose distinctiveness (and value) he first realized in his early teens:
I was oblivious, for the first thirteen years of my life, that I was endowed with a large oral appendage, my superlong tongue. It really was longer than everyone else's, and I was soon to find out that having a long tongue came in handy with the girls.
4. Strange Tongue Tricks
While we're still on the subject of tongues, there are a few tricks that most people can't do (just don't get a tongue cramp trying to do all these, mmkay?):
3. Sneeze with Your Eyes Open
Nope, you can't sneeze with your eyes open (well, without forcing 'em open with your hands, anyhow). Why? Because when you sneeze, the "sneeze center" in the brain "sends coordinated motor impulses along nerves controlling muscles of the abdomen, chest, diaphragm, neck, face, eyelids and various sphincters, as well as the mucus glands and blood vessels of the nose. All this happens automatically." (Source) You can't help it.
Now, if you did force open your eyes, would your eyeballs pop out when you sneeze? Adam Savage of The Mythbuster risked his eyes doing the experiment:
2. Tickle Yourself
View pictures in App save up to 80% data.We all have a ticklish spot or two, which are never a secret from the ones we love. Gentle tickling is fun – so one can be tempted to "auto-tickle" to amuse oneself. But alas, you can't tickle yourself, and scientists actually know why.
Sarah-Jayne Blakemore of the Institute of Cognitive Neuroscience at University College London explains: